Goals. I love making them and I love keeping them. I write down new goals every year. Key word (phrase): write down. If they're not written, they're just wishes. Therefore, I have written down my 12 must-do projects for 2012. That gives me one month per project. Very doable (it's important not to over-goal yourself).
#1: Anthropologie knock-off Gorgina bedding for my bed.
#2: Anthropologie knock-off Rosette bedding for Morgan's room.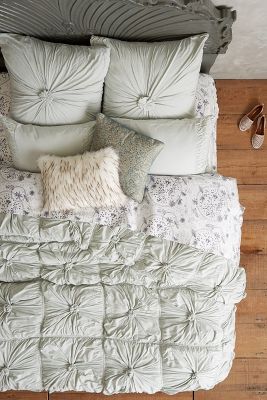 anthropologie.com
#3: Umbrella summer wreath.
#4: Stained table top with painted legs.
#5: Hanging planter chandelier.
blog.addicted2decorating.com
#6: Diamond tufted headboard.
blog.addicted2decorating.com
#7: Melted crayon on canvas.
wingledings.blogspot.com
#8: Union Jack pallet coffee table -- I don't want that exactly but I love Union Jack and pallet stuff.
trescherechattel.blogspot.com
unknown
#11: Colonial dollhouse. I already have the plans and the wood.