I'm sure there's no need to preface this post with "I love Anthropologie" but I do. I LOVE Anthropologie! I especially love a good Anthro knock-off, as I'm sure you know if you remember the two lamps and the bedding. Soon I hope to have curtains and more bedding, but until then, here is a new one. My version of the Anthro vase.
anthropologie.com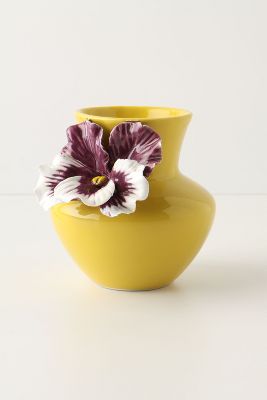 my version
What is the flower made of? Just plastic spoons. Yes, PLASTIC SPOONS (I'm trying to be dramatic)! Anyway, I found a tutorial for the plastic flower at
Can't Stop Making Things
. I was going to make my own tutorial but I was making the flower with Morgan and there was an open flame that I didn't want to take my eyes off of to grab my camera (and they do a good job at Can't Stop Making Things so why -- just go there).
My part of the tutorial: Hot glue the flower to your vase. That's it, my Anthropologie loving friends.
Anthro's vase: $18 (which is very reasonable for Anthropologie).
My vase: less than $1 (I got the vase at a garage sale with a ton of other things and spray painted it).
Now use the rest of your money on something good (savings?).
Linking up at the great Linky parties found at the bottom of the blog. They are where I find most of my inspiration! Check them out!
plus